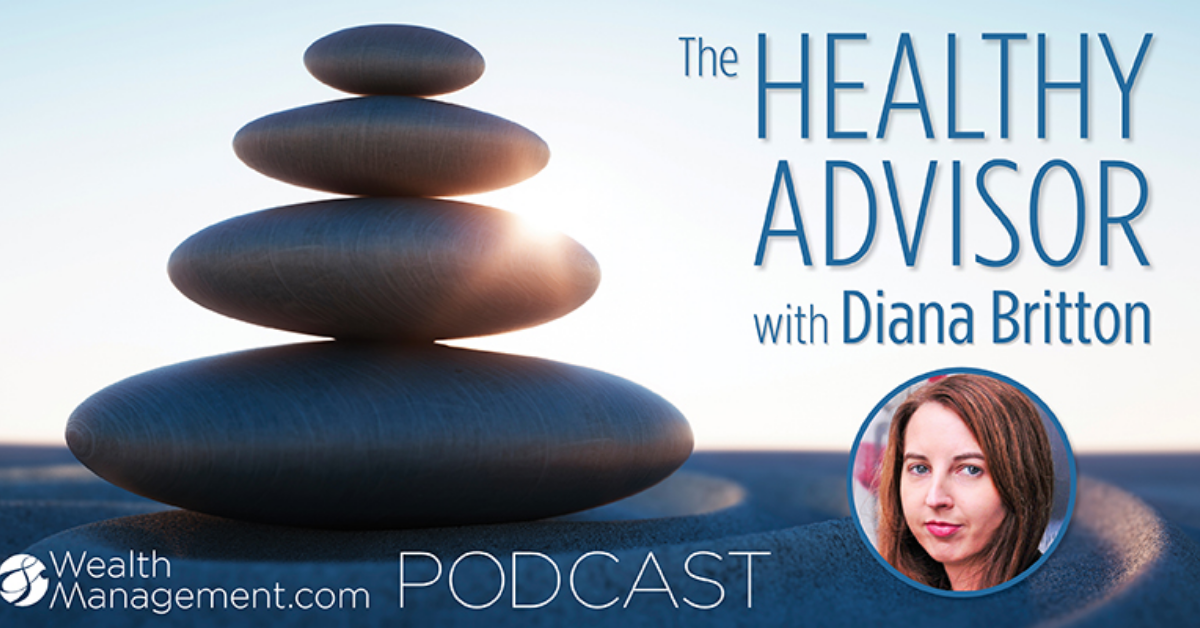 The Healthy Advisor: The Art of Mindfulness With Mary Martin
Mary Martin had always been very health conscious, making sure she ate right and stayed in shape. But several years ago, she had a miscarriage at five months' pregnant, although she didn't know she was pregnant at the time. The experience helped her learn that from an emotional standpoint, she wasn't really present in her body. She came to realize what it was like to truly be a human being, not simply a human doing.  
Now she focuses on teaching advisors about taking care of their own wellbeing through personal considerations and building connections with others.
In this episode, WealthManagement.com Managing Editor Diana Britton speaks with Mary Martin, Ph.D., mindfulness educator and author of "Mindfulness for Financial Advisors," on being human in a technological world and how being mindful of your emotional and mental wellbeing is just as essential as your physical wellbeing.
Mary discusses: 
How she developed her passion for teaching advisors about mindfulness

How her

realization of not truly living in her body changed her routine

The biggest hurdles to getting advisors on board with her teachings

How advisors can better handle the anxiety, stress and emotions of clients

What will contribute to successful advisors in the future



Resources: 

Connect With Mary Martin:

Connect With Wealth Management & NREI:
About Our Guest:
Mary Martin is a mindfulness educator, author of Mindfulness for Financial Advisors: Practicing a New Way of Being, creator of the original course, and Futures Thinker. She's a designer of learning experiences that cultivate awareness, adaptability, and optimism. She attended Brown University, Mindful Schools, and is trauma-certified. She's also the recipient of 2022 Imagination Leadership Award from the Institute for the Future.
​
If you have a struggle and wish to share your experiences and help others in similar situations, please reach out to Diana at diana.britton@informa.com.
The Healthy Advisor podcast is available on Apple Podcasts, Android, Stitcher, Spotify and wherever podcasts are found.
Products are issued by Allianz Life Insurance Company of North America (Allianz). Variable products are distributed by its affiliate, Allianz Life Financial Services, LLC, member FINRA, 5701 Golden Hills Drive, Minneapolis, MN 55416-1297. 800.542.5427 www.allianzlife.com. This notice does not apply in the state of New York.
Allianz Investment Management LLC (AllianzIM) is an investment manager specializing in the development and execution of innovative risk management strategies, with $18.8 billion in AUM. Based in Minneapolis, AllianzIM's investment management is powered by the same proprietary in-house hedging platform that is used among affiliates to help manage more than $145 billion in assets for institutional and retail investors around the globe.1
Risk management is provided by AllianzIM a wholly owned subsidiary of Allianz Life Insurance Company of North America that provides hedging services to the broader Allianz Group.
Allianz and AllianzIM are not affiliated with WealthManagement or the featured guest.
1 As of 6/30/2022
Podcast: Play in new window | Download | Embed
Subscribe: Google Podcasts | Spotify | iHeartRadio | Stitcher | TuneIn | RSS | More